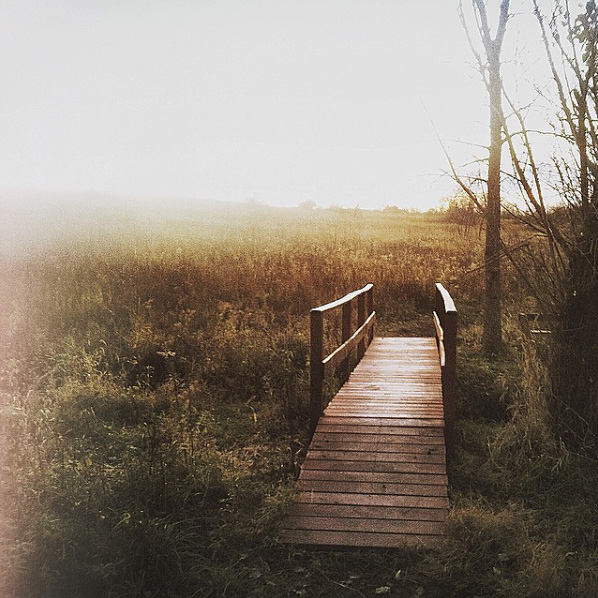 The Little Path, Off To The Right.
About six years ago, my wife Kim and I bought a house in the small town of Algonquin, about 45 miles Northwest of Chicago. Although the house was a bit old and outdated, we were sold on the fact that it backed-up to a one hundred and fifty acre forest preserve. While we still had the pleasures from a booming metropolis of retail stores, restaurants, and other houses in the area, we had this piece of land behind us that was secluded and uninhabited.
It was ordinary for me to take one or all of my three boys out for walks in the preserve to give us something to do on a boring Saturday afternoon. We would take the typical main path that seemed to circle around what I thought was most of the secluded land. I always enjoyed feeling so insignificant as we walked through the immense landscape. As we walked, no noises could be heard except that of the ones that nature was producing. For the most part, the land was pretty flat and wasn't too exciting, but we still seemed to find the fun in walking the main trail. However, today was different. Today I discovered something new.
On this particular Saturday I decided to take my son Jacob, who is ten and Gavin who is four, on the walk in the preserve, or what we liked to call "the field". Today as we were walking the typical direction, my son Jacob noticed a narrow path pointing off and to the right. After countless attempts of Jacob harassing me to follow this new direction I finally gave in with a sigh and decided to see where it would take us. Probably to a dead end I told myself.
As we came around the corner, into a new area that was originally blocked by other trees and brush, my eyes lit up as I witnessed a new landscape I had never seen before in this forest preserve. I saw hills and valleys as far as my eyes could see. I saw a creek running through the basin with a wooden bridge taking us from one side of the land to the other. There were trails leading every which way that opened up even more possibilities to where we could explore next. It was so amazing to me that this area, so close to my home, had always been here, right in my backyard, but I had never come across it before. Not one time in the last six years that I've lived here had I noticed this. I've walked right past it a couple times and maybe even saw the little trail leading here, but never felt the urge to explore and see where it might lead.
This discovery made me think about life and how we typically live. It's so easy to keep walking down the same path instead of giving-in to the little voice that's prompting us to explore the little path off and to the right. I'm not a writer but what would happen if I started to write more? Would I walk into a new world that has opportunities and new discoveries? Maybe you're not a creative person but have always wondered what would happen if you let go a little and started to be a little more creative. What would happen if you started to put some paint on a canvas? Maybe this would just lead to a dead end or perhaps a new world might unravel.
Have you ever noticed the little path, off to the right?
Seth Guge
10/26/2011